ROXANNE's Third and Final Field Test – registration open till September 15th!
When? Thursday, October 6, 2022, from 9 AM to 7:00 PM CET | Where? INTERPOL, Lyon, France | How? Physical event upon registration (in accordance with applicable travel and health restrictions)
With ROXANNE project coming to an end, we want to invite you for the Final Field Test. The event will be held on Thursday, 6 October 2022, from 9:00 AM to 7:00 PM CET at INTERPOL, Lyon, France and it will be a physical meeting.
During the field test, the platforms' matured capabilities and police use case scenarios will be demonstrated and a hands on session for participants interested in experimenting with the platform functionalities will be offered.
To participate in the event register here:
https://ec.europa.eu/eusurvey/runner/49b13119-3c44-519d-192f-5562c06140d0
The registration is open till 15th of September.
The agenda for the event is as follows: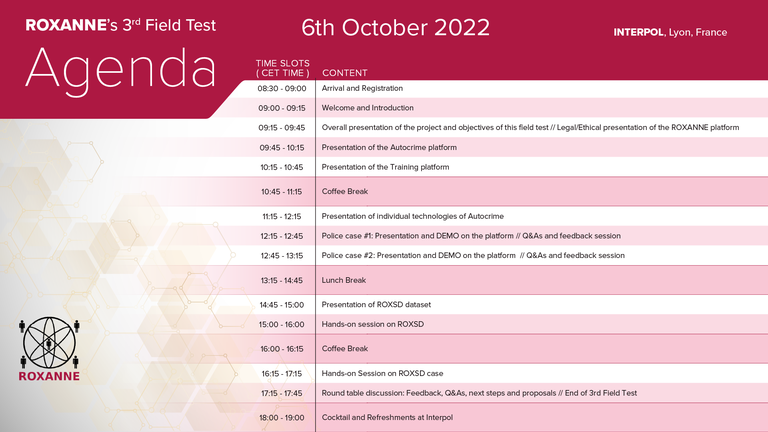 We are looking forward to your participation!